3D opens up a world of design that is otherwise hard to access. Working with designers and engineers to attain the best possible CAD designs, 3D designs or 3D models is one of the objectives of R RADIANT ENGINEERING.

3D visualization of CAD tools brings life and clarity into the design objectives with respect to interference, clearance, tolerance aspects, aesthetics and helps communicate ideas more effectively.

3D modeling is the technical art of developing a mathematical, wire frame representation of any three-dimensional object. 3D models could be displayed as an image in print using a process called 3D rendering or used in a computer simulation.
Simply put, CAD design is the use of computer technology for the process of design and design-documentation.
A 3D design is usually used by individuals and companies in the field of architecture and engineering work. 3D CAD technology provides a challenging creative environment. 3D CAD provides opportunities for the elimination of inherent inefficiencies in existing work flows or practices.
3D Modeling and Rendering services from R RADIANT ENGINEERING include -
Wire frame geometry creation
3D parametric feature based modeling, Solid modeling
Freeform surface modeling
Automated design of assemblies, which are collections of parts and/or other assemblies especially for engineering design
Validation/verification of designs against specifications and design rules
Bi-directional parametric association (modification of any feature is reflected in all information relying on that feature; drawings, mass properties, assemblies, etc.)
Kinematics, interference and clearance checking of assemblies
Sheet metal
Inclusion of programming code in a model to control and relate desired attributes of the model
3D models/assemblies from 2D details/assemblies
3D rendering of full-fledged manufacturing drawings
3D sectional views and CAD models
3D model exploded assembly views
3D design models using reverse engineering methodology
R RADIANT ENGINEERING offers 3D modeling and rendering services to different industries like
Automobile
Aerospace
Piping
Packaged Food
Electronic and consumer goods
Telecom
Medical devices
Marine vessels
Process industries
General engineering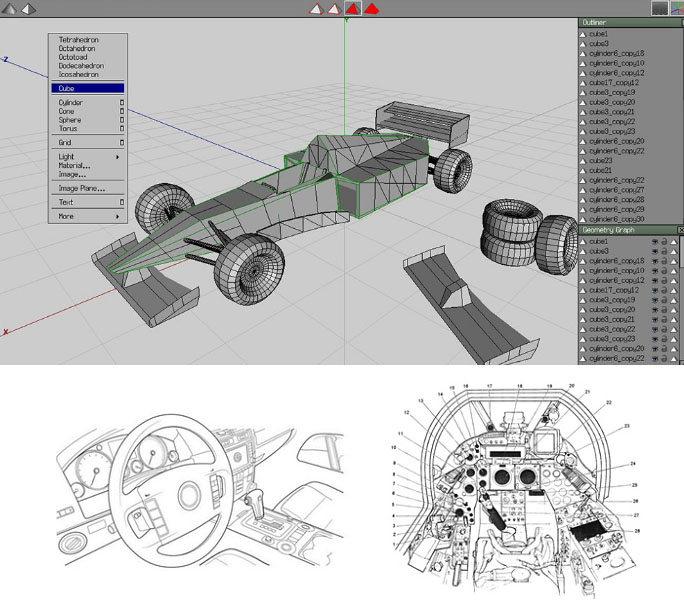 3D Modeling software used at R RADIANT ENGINEERING
R RADIANT ENGINEERING's 3D modeling team has expertise in 3D modeling and can create CAD models using tools like AutoCAD, Inventor, SolidWorks, Pro/Engineer, CATIA and I-Deas. All version requirements of customers can be met to create 3D models. We can work on all versions of the software, according to the requirements of the customer.
Benefits of outsourcing 3D Modeling Services to R RADIANT ENGINEERING
Improved overall prototype visualization of CAD models - Communicates concepts to varied audience
Better depiction of engineering designs
Experience in usage of international standards and best practices in 3D modeling services